Running for the Mental Health Awareness, One Mile at a Time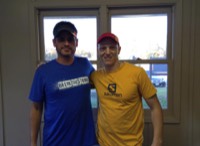 About Defeat the Stigma
Our Goal

To educate, encourage and inspire others about mental health issues and treatments in an effort to end stigma and foster hope.

Our Vision

To educate people that depression and mental illnesses are treatable.
To encourage people to live a healthier life through education and treatment.
To inspire others to talk about mental health issues and create support.

For More information about Defeat the Stigma click
here
.
In the past two years Defeat the Stigma has run across Minnesota and Wisconsin. In 2017 there will be two groups that will be running throughout the country to defeat the stigma.
One group will be running across Illinois in May and the other group is running across Idaho.